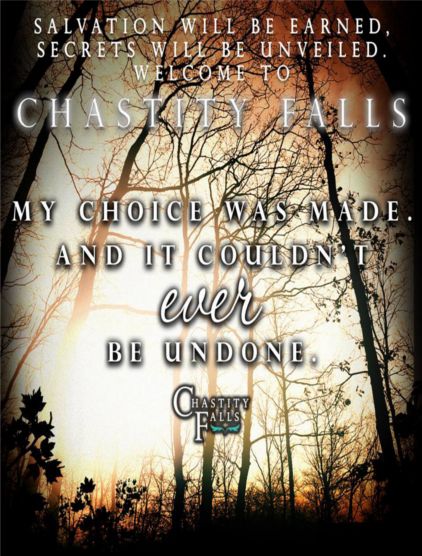 ~ Other Books In The Series ~

Loyalty and Lies (Chastity Falls Series Book 1)
Synopsis
Eighteen-year-old Savanah Parry just moved three thousand miles across state to escape. The memories?the whispers?the pain. Chastity Falls Academy is supposed to be her fresh start; her salvation. And when Ana meets mysterious Jackson, she begins to think it is. She hasn?t smiled in almost sixteen months; not since the night her life changed forever, and despite her guilt?her loyalty, Ana can?t deny that Jackson is breathing life back into her. With Jackson by her side, Ana wants to believe she can heal and move on. But she isn?t the only one living a lie, and the small private Academy has secrets of its own. All is not what it seems, and Ana is about to find herself in a tangled web of lies; fighting for survival, again. Loyalties will be tested, lies will be told. Welcome to Chastity Falls.

---
--Review--
by Stormy
Rating: A+
(5 stars)

WOW... Once again LA Cotton has left me baffled and hungover, craving more. Woman, you have some mad skills. I just can't seem to get enough of Ana and Jackson. Their little group is a riot! The effortless way you keep the story going and keep pulling at emotions is GREAT. I found myself talking to these characters throughout the story. Crazy I know. You stabbed my heart with your infamous "To be continued..." I can't wait to find out where this crazy journey leads.

How can you truly live without the love of your life.. but to have to walk away twice? Ana is definitely a strong young woman. She has a heart of gold surrounded by all of the walls she has forced around herself. Could she really forget about Jackson Pierce? Continue to avoid him? Ignore what her heart was constantly screaming at her? It only took him walking into the room for her world to crumble on her.

Could they really be together? Braiden and Briony are at every turn awaiting for any and every chance to intervene. With the rivalry constantly brewing, who was truly safe? Can Jackson finally get out? The Donohu have raised him and they are the only family he has had since his father passed, could he do this? Would they let him just walk away?

Things quickly go from quiet to hailstorm. Ana is in danger, can Jackson protect her? Will Marcus allow them to be together?

While I hope this wasn't too much of a spoiler, i absolutely LOVE this story. I have quickly fallen in love with this series.